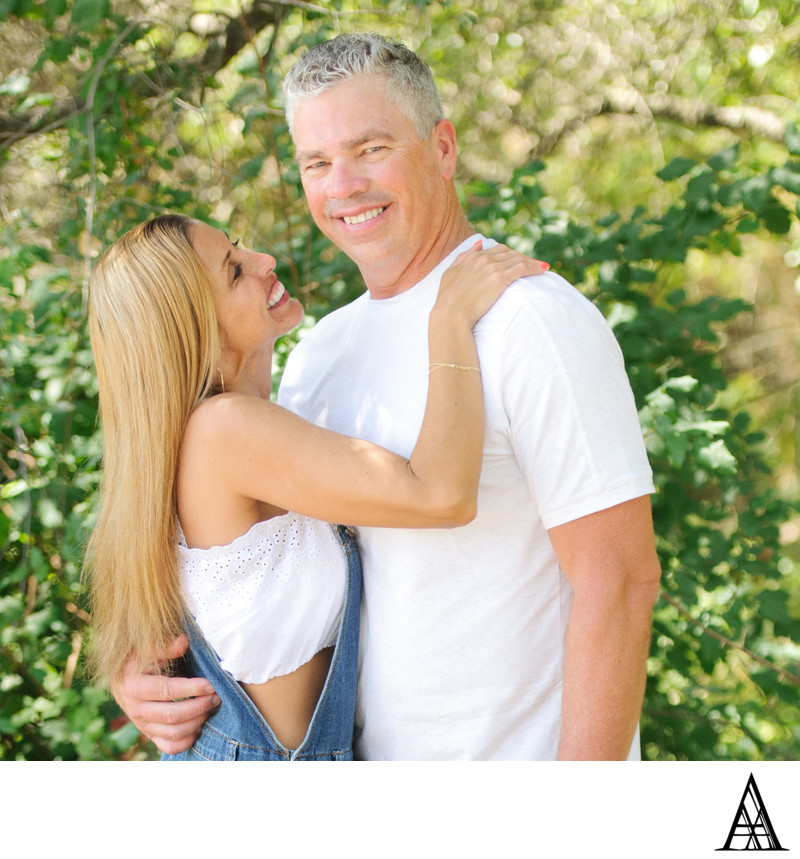 Congrats on you engagement! Now what? One way to kickoff your celebration is to showcase your love and capture this exciting time with a pre-wedding, engagement shoot.
Time Commitment
A photo session typically takes between 45 minutes to an hour depending on the location or number of outfit changes. After the shoot, you will receive edited, high-resolution photos, delivered via a password protected digital download portal hosted on our website. Custom USB drives are also available as an alternative to digital downloads for an additional fee.
You can expect to receive your images within four to six weeks, depending on the breadth of your session. In a rush? High priority editing and quick turn-around deadlines can be accommodated for an additional charge.
What to Wear
When deciding what to wear to your engagement photo shoot feel free to bring multiple options, and coordinate with your Fiancé. What do you two like to do together? Are you into sports and have matching jerseys? Enjoy hiking and scenic backdrops? Are you two barefoot bohemians or laid back beach-babes? Keep it simple and remember a good rule of thumb is to bring a casual outfit, a classic or formal look, and a special outfit that highlights your unique personality. If you enjoy sports bring jerseys, baseball caps, sports equipment, etc. We had one couple bring custom t-shirts or rock their favorite comic book heroes. Hats, jewelry and accessories are encouraged as well and can add flare.
Nothing to Wear?
If you cant decide, bring an assortment of outfits that make you feel confident and we can sort through your wardrobe together to determine the best looks for the location. It's common for brides-to-be to book a hair and makeup appointment prior to their photo session to indulge in the glam and kick up the confidence. If you don't have a stylist handy we can provide you with a trusted personal stylist to help you with all aspects of you look, from selecting your outfits, styling your hair and makeup, to taming rogue flyaways mid-shoot.
Props
Props can be invaluable to enhance the experience and create your ideal look. Feel free to share your Pinterest board with us so we can get a sense of your style. Customized signs, blankets, balloons, or sentimental items can be used as props during the shoot so if you're creative, this is your time to shine. If your faith is a keystone of your relationship, feel free to bring scriptures, prayer beads or other special mementos.
Personalization
Is a good cup of Joe an important part of your life? We can shoot at your favorite local coffee shop or any location that has significant meaning to you and your other half. Consider whether a nature setting or urban best fits your vision. One couple brought a charming antique tea set and set up a cozy picnic for their backdrop. Urban shoots utilize texture, walls, brickwork, and architecture as backgrounds. Is country setting more your scene? Beautiful natural backgrounds such as fields, forests or hiking trails produce elegant backdrops for your portraits, we can make that happen too. Or keep it simple and bring along a bottle of bubbly and we can capture it mid-spray, or make it fun in your own way. Let's capture your unique relationship!
Comfort
Comfort and confidence are essential for looking your best in photos. Wear your favorite outfits that make you feel strong, sexy, and most importantly, yourself. Take the time to plan ahead and pick out your favorite pieces like your go-to favorite shirt, the dress that always turns heads, or your good-butt jeans—you know the ones—that will make the portraits your own. The more relaxed you are as a couple, the more candid, spontaneous moments are able to shine through.